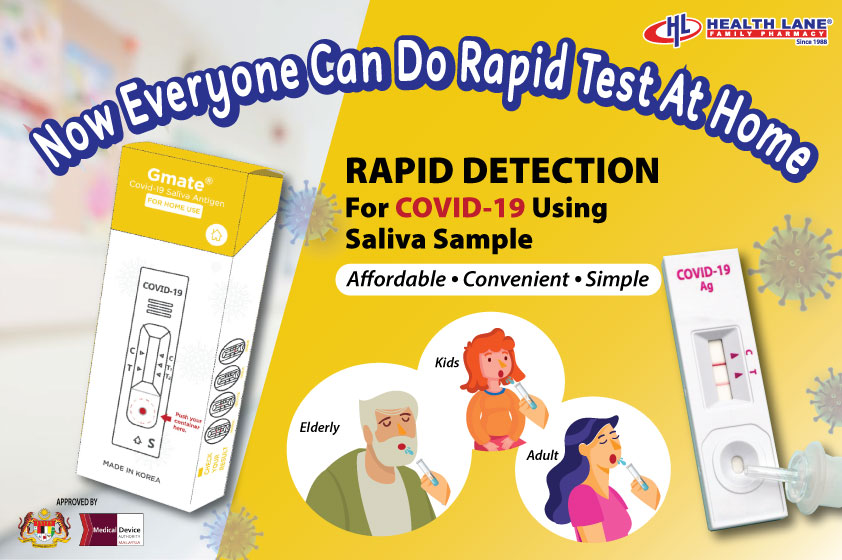 What is Covid-19 Rapid Antigen Home Test Kit?
Covid-19 Saliva Home Kit is intended to support for in vitro qualitative detection to SARS-Cov Antigen in human saliva sample for home use. The Product can be used for SARS-CoV-2 Antigen test of coronavirus suspected patients Which Appear symptoms within 7 days.
How to use?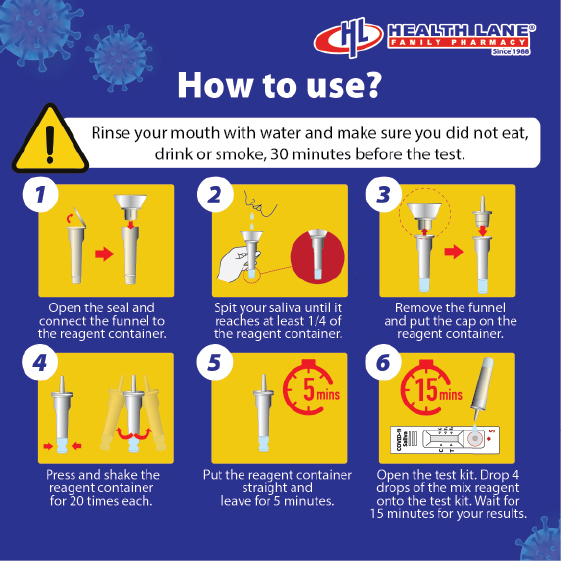 Video tutorial : https://youtu.be/53rTiAgTWBs
How to read the result?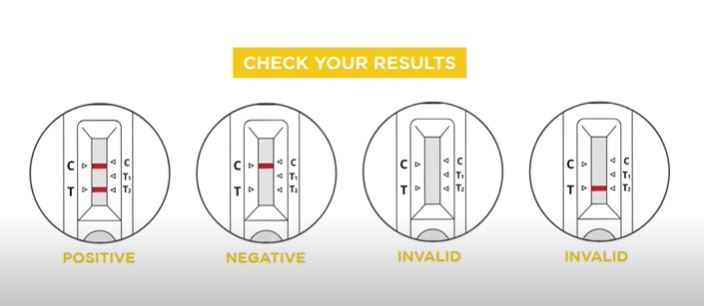 REPORTING COVID-19 RESULT METHOD
POSITIVE: Results shall be reported to KKM on MySejahtera App. Open the App> Press Helpdesk> Start> Select F "I am Covid-19 Positive and awaiting call from MOH".
NEGATIVE: Please be vigilant and follow the SOP.
INVALID: Please contact the pharmacy or clinic for your replacement.
Disposal procedure for GMATE COVID-19 AG Saliva for home use
Disposal bag is provided in the box for the user. The box includes Test Kit, Funnel, Prefilled Reagent Container, Cap and Instruction For Use. After test is completed, place the test kit in plastic disposal bag. Then take a plastic bag and place the plastic disposal bag into the plastic bag and tie it up throw in into the dustbin.
Guideline
1. Distribution of the test kits can only be to licensed community pharmacies and healthcare
institutions. Distribution to other channels are strictly prohibited.
2. Licensed community pharmacies and healthcare institutions can sell the kits. All customer information needs to be collected for recording purposes.
a) For retail outlets : name, phone number and IC number of the person who buys the kit
b) For online stores : name, address, phone number and email address
Frequent Ask Questions
1. Is this test approved by the Malaysia Ministry of Health (KKM)?
Yes, this test is registered and approved by the Medical Devices Authority (MDA) which is the medical devices division under the Ministry of Health.

2. Is this test accurate?
The accuracy of the test is referred to as the sensitivity and the specificity of the test. Based on the evaluation done, the Gmate Covid-19 Ag Saliva Home Kit has a Sensitivity of 95% and the Specificity of 98% based on a study of 620 samples (Korea). Malaysia evaluation has 90.9% Sensitivity and 100% Specificity.
3. When should I use the test?
- 7 days since the onset of the symptoms.
- When you have been to high-risk locations.
- When you have developed symptoms such as cough, fever, difficulty breathing, tastelessness and any symptoms pertaining to the Covid-19 virus.
- As a precaution and peace of mind.
4. I accidentally spit too much saliva into the saliva collection kit, does it affect the accuracy?
No, it doesn't. However do not spit lesser than the recommended amount into the saliva collection kit.
5. Should I put all the reagent into the saliva collection kit?
Yes, please drop all the reagent into the saliva collection kit.
6. I have accidentally exposed the test kit to high heat in my car, will the kit still be accurate?
The storage condition of the kit needs to be at 2oc to 30oc and heat will affect the accuracy of the test. In that case, please purchase a new kit.
7. Should I store the test kit in the fridge?
No, just store it in a cool place at home where it is around 2oc to 30oc.
8. What should I do if I am positive?
a) Tell a healthcare provider about your positive test result and stay in contact with them during your illness. If your illness becomes severe, seek medical attention. To avoid spreading the virus to others, follow KKM Recommendations.
b) As much as possible, stay in a specific room and away from other people and pets in your home or place of residence. If possible, you should use a separate bathroom. If you need to be around other people or animals in or outside of the home or place of residence, wear a mask. Don't share personal household items, like cups, towels and utensils. Monitor your symptoms. If you have an emergency warning sign (including trouble breathing), seek emergency medical care immediately.
c) Tell your close contacts that they may have been exposed to COVID-19. An infected person can spread COVID-19 starting 48 hours (or 2 days) before the person has any symptoms or tests positive. By letting your close contacts know they may have been exposed to COVID-19, you are helping to protect everyone.
9. I accidentally spilled the saliva and reagent mixture, what should I do?
Clean the surface with a disinfectant solution and leave to dry. Purchase a new test kit.
10. If I did not shake 20 times and press 20 times, or I have lost count, what should I do?
Shake another 20 times and press another 20 times and proceed with the rest of the steps.
11. Can this test be performed on kids?
Yes, it can be performed on kids.
12. Does this test kit detect the variations of COVID-19 virus?
Yes, it does detect the current variations of the COVID-19 virus.
13. What if my test is invalid?
Take a picture of the test kit and contact your reseller/pharmacy to get a replacement.
Where to purchase?
The test kit is now available for pre-order in all Health Lane Family Pharmacy outlet (https://estore.healthlane.com.my/locate-us) and official E-Store (https://healthla.o2o.my).